CEO Interview , Mr. Lee Seung Soo (CEO / Infineon technologies Korea)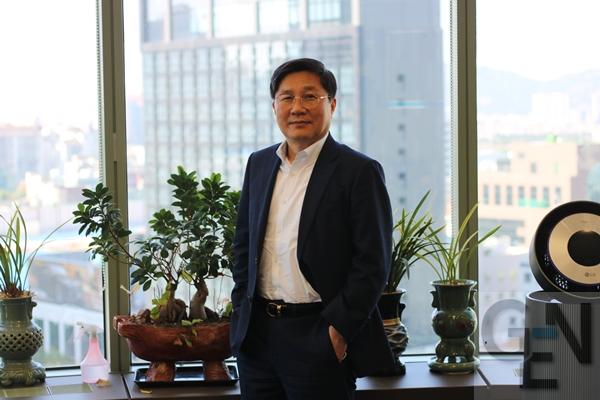 Interviewer : Alicia Song ( GEBS , Reporter)
Interviewee : Mr. Lee Seung Soo (CEO / Infineon technologies Korea)
Reporter
(Hello Everyone, my name is Alicia Song and I am a reporter for GEBS, a foreign company news station in Korea. I am also the Director of Public Relations at the KOFA.
Today, I am honored to be joined with Mr.Lee Seung-Soo, the country manager of the Korean branch of Infineon Technologies)
(Hello Mr. Lee, first of all, thank you very much for accepting this interview.
I know that Infineon Technologies headquarters is based in Germany and Infineon Technologies Korea's branch is located in Samseong-dong, Gannamgu, Seoul). Would you please share with us an introduction about Infineon Technologies?)
Mr. Lee Seung Soo :
In the 2020 fiscal year (ending 30 September), Infineon reported revenue of more than €8.5 billion with a workforce of some 46,700 people worldwide. Following the acquisition of the US company Cypress Semiconductor Corporation in April 2020, Infineon is now a global top 10 semiconductor company. We play a key role in shaping a better future – with microelectronics that link the real and the digital world. Our semiconductors enable efficient energy management, smart mobility, as well as secure, seamless communications in an increasingly connected world.
Infineon Technologies Korea is located in Samseong-dong, Gangnam and working around 240 employees. Also we set up the sales office in Daegu to provide qualified support for customers in South area. Major customers are Hyundai Motor group, Samsung Electronics and LG Electronics and Infineon Korea have ranked No.1 in Automotive semiconductor area.
Reporter
(Thank you for the introduction. Would you please describe what the organizational culture (OD & Culture) and ideal Talent Style of Infineon Technologies Korea is?)
Mr. Lee Seung Soo :
Infineon Korea respects Korean culture based on IFX head quarter's structure. All employees are responsible for own work and we place a high value on exchanging necessary feedback each other. There's a communication format called Leadership dialogue that not only the manager give feedback to the staffs, but the staffs also give feedback to their manager.
Infineon Korea is working on a campaign to call nickname instead of Korean title. We will continue this campaign to make more respectful and equal organizational culture.
Reporter
(Would you please outline the compensation & benefits (C&B) and HR (HRM) system of Infineon Technologies Korea?)
Mr. Lee Seung Soo:
Infineon Korea provides 'Flexible spending account' what employees can use this one like credit card anywhere, anytime. And we are constantly trying to offer the necessary program for employee's wellness.
Infineon Korea operate global HR system stably. Managers have a performance evaluation with each employee frequently and we managing not only evaluation, but also various training program for employee's development.
Reporter
(How would you describe the labor-management culture of Infineon Technologies Korea?)
Mr. Lee Seung Soo:
We have the labor-management council meeting quarterly. Council members from workers are collecting feedbacks regarding all of company life and they put it on the table in labor-management council meeting. All council members discuss new feedbacks and notice the conclusion quarterly.
Reporter
(Would you be able to inform us of any job position currently available at Infineon Technologies Korea or a position that is scheduled to be available in the second half of this year?)
Mr. Lee Seung Soo:
Infineon Korea recruits experienced employee time to time. Please refer to the Infineon website for the details of recruiting.
www.infineon.kr
Reporter -
(As a successful leader and CEO, it would be great if you could share some advice for working mothers who dream of becoming CEOs of foreign companies in the future?)
Mr. Lee Seung Soo:
Most working mothers should take care of both their family and work. They are used to doing two things same time and they know how to use their time efficiently. To finish the work in time, concentration and sensitivity are required. As such, working mothers have many strengths.
I think it's important to experience various positions in one field if you have a goal to become a CEO. For example, If you're working as engineer you can try sales position, if you're working as sales you can try marketing position. Make your unique career focusing on the position what enable to catch the big flow of company's moving forward.
I look forward to meeting many woman CEOs soon.
Reporter -
(The world economy has been stunned since the Pandemic. Would you please highlight some of the real difficulties that currently surround your company industry as well as the future outlook of the industry?)
Mr. Lee Seung Soo:
As many people know already Automotive semiconductor supply issue is very serious now days. Semiconductors account for 18% of the total cost of automotive electronics in 2000 but it's 40% in 2020. The demand has increased significantly but only few foundry companies produce automotive semiconductor because it's not profitable. It's expected to continue overeating of automotive semiconductors for a while due to great interest of autonomous driving, electric vehicles and COVID pandemic. To counteract this problem, Infineon is doing the best to find good solutions for our customers.
Reporter -
(Lastly, as a mentor who contributes so much to his community, please share with us any wisdom you may have for young job seekers)
Mr. Lee Seung Soo:
We are living in an era of rapid change and COVID pandemic has made it harder to get a job. But the economic is slowly recovering and I believe there are opportunities even though it's a difficult situation.
It's late if you start preparing when the good opportunity happened. You should decide the direction you want to go and make the qualifications and experience to match the job you want. If you decide a job you want to do, I'd like to recommend that you get information about the company you want to work as much as you can. It would be helpful that find the company's management direction, changes in the industry and company's outlook. Many companies want you if If you can clearly show your potential and your goals to contribute within the company.

ⓒ GEN - 주한외국기업뉴스 & gen.or.kr 무단전재-재배포금지